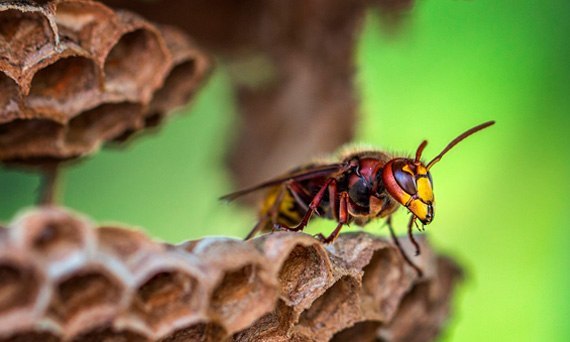 Szerszenie to owady z rodziny osowatych. Uważane są za jedne z najgroźniejszych przedstawicieli tego gatunku. Mało kto jednak wie, że atakują wyłącznie w sytuacjach, kiedy zostaną do tego zmuszone, nigdy same z siebie. Są szczególnie aktywne latem i wczesną jesienią i to właśnie wtedy jest ich najwięcej. Przedstawiamy zagrożenia wynikające z ich obecności oraz sposoby eliminowania.

Najważniejsze fakty na temat szerszeni
Na początek kilka ciekawych faktów odnośnie tych owadów. Może zacznijmy od ich wymiarów. Samce szerszeni, które spotykamy w naszym otoczeniu, osiągają do 35 mm długości, natomiast samice do 23 mm. Z kolei gniazda szerszeni mogą osiągać nawet do 50 cm długości. Pokarmem, którym żywią się są głównie soki niektórych drzew oraz inne owady. W tym celu szerszeń wstrzykuje swojej ofierze jad, który powoduje jego unicestwienie. Osiedlają się przede wszystkim w lasach liściastych, gdzie zakładają gniazda w dziuplach drzew. Zdarza się również, że dzielą wspólne dziuple z ptakami, nie wchodząc z nimi w konflikty.
Rola szerszeni w ekosystemie

Podobnie jak pozostałe osowate, tak i szerszenie odgrywają ważne zadania w świecie przyrody. Często ich rola porównywana jest do rangi wilków. Odpowiadają m.in. za eliminowanie osłabionych i chorych insektów, które mogą być nośnikami przeróżnych chorób. Szerszeń żywi się owadami, w tym muchówkami, osami czy również pożytecznymi pszczołami oraz owocami i sokami niektórych drzew. Niestety często nadgryza te dojrzałe i uszkadza młode drzewka, powodując straty w sadownictwie i leśnictwie.
Obecność szerszeni - zagrożenia dla ludzi
Szerszenie są zdecydowanie mniej agresywne niż osy czy pszczoły. Trzeba naprawdę się postarać, żeby sprowokować je do ataku i wtedy rzeczywiście mogą być sporym zagrożeniem dla ludzi. W przeciwnym wypadku, nie musimy martwić się o ryzyko użądlenia.
To jednak nie powoduje, że powinniśmy całkowicie ignorować ich obecność, która często świadczy o bliskiej lokalizacji gniazda. Zdarzają się sytuacje dramatyczne, szczególnie dla dzieci czy alergików, gdy użądlenie przez kilka szerszeni jest śmiertelne dla człowieka.
Co ciekawe, jednorazowo owady te wypluwają z siebie około 0,2 mg jadu. Natomiast dawka, która mogłaby zabić człowieka wynosi około 80 mg. U osób uczulonych na jad insektów z tej rodziny może dochodzić do niebezpiecznych objawów, do których zaliczamy: zawroty głowy, gorączkę czy opuchliznę. Natomiast w bardziej ekstremalnych sytuacjach może dojść do utraty przytomności, a nawet zapaści, która w konsekwencji może być zagrożeniem życia.
Dlatego, jeżeli zauważysz gniazdo szerszeni zgłoś ten fakt do specjalistycznych firm zajmujących się ich usuwaniem.
Eliminowanie zagrożenia
Usuwanie zagrożenia wynikającego z obecności dużej ilości szerszeni to wcale nie taka prosta sprawa. Tego typu działania wykonywane są najczęściej przez firmy zajmujące się usługami dezynsekcji. Zdarza się również, że usuwanie gniazda zostaje zlecone straży pożarnej. My zdecydowanie polecamy tą pierwszą opcję, ze względu na szybkość wykonania takiej usługi. Najgorszym rozwiązaniem takiego problemu jest działanie na własną rękę i samodzielnie podejmowana próba pozbycia się gniazda. Bez specjalistycznych kombinezonów, rękawic czy masek narażamy siebie i swoich bliskich na atak broniących się owadów. Konsekwencje takich działań mogą być opłakane w skutkach
Skuteczne odstraszanie szerszeni
Na rynku dostępnych jest sporo środków umożliwiających samodzielne odstraszenie owadów latających, w tym os i szerszeni. Opinie naszych Klientów pokazują, że najczęściej wybieranymi produktem jest VACO Strażak na osy MAX.