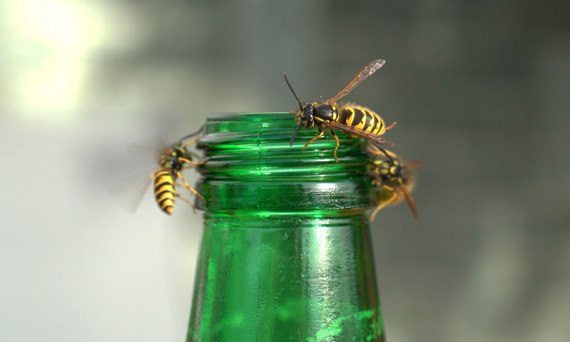 Wyróżniamy kilka gatunków owadów, które zaliczane są do tak zwanych osowatych. Są wśród nich m.in. osy, szerszenie, pszczoły i trzmiele. Ulubionym miesiącem obecności tych insektów
w ciągu roku jest sierpień, co wynika z ich cyklu rozwojowego. Warto mieć to na uwadze, by skutecznie móc się przed nimi chronić. Poznaj najważniejsze informacje na temat tych owadów, w tym niebezpieczeństwa, jakie niosą oraz sposoby ich zwalczania od ekspertów VACO!
Gatunki osowatych
Owady osowate (Vespidae) to rodzina insektów z rzędu błonkoskrzydłych, do których zalicza się kilka tysięcy gatunków żyjących na całym świecie. Niektóre z nich, jak np. osy traktowane są jako drapieżne. Oprócz tego, że odżywiają się pyłkiem i nektarem kwiatowym, potrafią atakować też inne owady. Gatunek dzielimy na dwa rodzaje:
Osy właściwe – charakteryzują się tym, że zakładają jednoroczne gniazda, które tworzą wykorzystując do ich produkcji masę papierową. W tak zbudowanym gnieździe żyć może od kilkuset do nawet kilkunastu owadów. Podobnie jak u innych owadów, także u os mamy podział kastowy.
Kopułki – najważniejszą cechą tego gatunku jest to, że żyją samotnie. Co prawda, podobnie jak w przypadku os właściwych również tworzą gniazda. Jednakże w przeciwieństwie do tych pierwszych robią to samotnie. Rolę tę spełniają samice. Wykorzystują w tym celu otwory stworzone przez inne owady lub kształtują je na wzór charakterystycznych "garnuszków" samodzielnie. Podobnie jak osy właściwe, Kopułki polują na inne owady, które służą im później jako pokarm dla larw.
Zagrożenia dla ludzi!
Najbardziej niebezpieczne osowate, które szczególnie mogą zagrażać ludziom są szerszenie. Wbrew powszechnej opinii nie są to jednak owady agresywne. Atakująwyłączniew celach samoobrony, kiedy są zmuszone chronić siebie lub swoje potomstwo.
Cechą charakterystyczną szerszeni są znacznie większe żądła i silniejszy jad niż w przypadku innych owadów z tego gatunku. Użądlenie bywa bolesne, a w zainfekowanym miejscu może pojawić się ropiejąca rana.
W codziennym życiu, a szczególnie w okresie letnim, nie powinniśmy także lekceważyć zagrożenia wynikającego z obecności w naszym otoczeniu sporej ilości pszczół, os i trzmieli. Te małe owady występują znacznie częściej niż wspomniane szerszenie. Co za tym idzie ryzyko użądlenia przez nie jest zdecydowanie wyższe. Pomimo, że ich jadowitość nie jest aż tak intensywna, użądlenie może być niebezpieczne. Zwłaszcza dla osób uczulonych na ich jad! Istnieje ryzyko wystąpienia wstrząsu anafilaktycznego (tzw. anafilaksji).
Sposoby zwalczania osowatych
Pierwszą skuteczną metodą pozwalającą skutecznie odstraszać insekty latające, jakimi są szerszenie, pszczoły, osy czy trzmiele są spraye i płyny owadobójcze. Zawarte w tego typu produktach substancje aktywne tworzą efektywną barierę ochrony przed ukąszeniami owadów z grupy osowatych.
Kolejnym sposobem jest zastosowanie lamp owadobójczych. Istnieje kilka rodzajów tego typu urządzeń. Bardzo dobrze sprawdzają się zarówno w pomieszczeniach mniejszych, jak również w dużych halach produkcyjnych. Co niezwykle istotne, wykonane są z materiałów zapewniających im dłuższą wytrzymałość. Dzięki temu mogą służyć przez długie lata.
W przypadku sytuacji nieco bardziej skomplikowanych należy skorzystać z oferty specjalistycznych firm zajmujących się dezynsekcją. Takie zabiegi są niezbdne, gdy mamy do czynienia z całym gniazdem wspomnianych insektów. Działania te wymagają specjalistycznej wiedzy, pozwalającej przede wszystkim szybko i bezpiecznie pozbyć się problemu. Nie powinniśmy wykonywać ich na własną rękę, ze wględu na swoje zdrowie oraz z uwagi na aspekty ekologiczne.