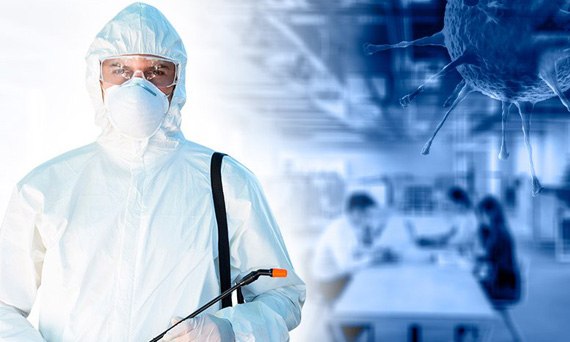 W ciągu ostatnich kilku tygodni termin dezynfekcji przybrał na znaczeniu. Śledząc statystyki Google Analytics okazuje się, że jest to jedno z najczęściej wyszukiwanych słów kluczowych w internecie. Śledząc to, co się dzieje w związku z panującą pandemią koronawirusa, trudno się dziwić. Ludzie, chcąc chronić siebie i swoich bliskich, starają się znaleźć informacje na temat skutecznej dezynfekcji osób, zwierząt, przedmiotów oraz pomieszczeń. Jednak większość z publikowanych w sieci przekazów jest powielana i wszystkim dobrze znana. Eksperci VACO przedstawiają 5 niepodważalnych faktów – gotowi?


Czy wiedzieliście Państwo, że…

Prawdziwie skuteczna dezynfekcja powinna być wykonywana przez specjalistyczne firmy
Przede wszystkim, aby móc przeprowadzać naprawdę skuteczną dezynfekcję potrzeba wiedzy i doświadczenia. Specjaliści na co dzień zajmujący się tą branżą, dokładnie wiedzą, która metoda będzie najbardziej skuteczna w konkretnym przypadku. Bez wystarczającej analizy właściwości drobnoustroju, właściwości środka chemicznego, właściwości środowiska (w tym jego pH) oraz odpowiednio przygotowanego preparatu nie można mówić o całkowitej eliminacji zagrożenia wynikającego np. z obecności koronawirusów. Tylko specjalistyczna wiedza w tym zakresie pozwoli nam zastosować metody, które zadziałają raz, a dobrze.
Zabiegi dezynsekcji i deratyzacji wspomagają skuteczną dezynfekcję
Z ponad 18 letniego doświadczenia, jakie posiadamy w branży, doskonale wiemy, jak ważne jest wspomaganie dezynfekcji zabiegami dezynsekcji i deratyzacji. Tylko kompleksowe przeprowadzenie tych 3 usług może doprowadzić do całkowitego wyeliminowania zagrożenia związanego z przenoszeniem się wirusów.
Dla przypomnienia - zabieg dezynsekcji polega na eliminowaniu wszelkiego rodzaju insektów i robactwa, natomiast deratyzacja - to eliminowanie zagrożenia związanego z występowaniem gryzoni (szczury, myszy). Tego typu szkodniki są nosicielami chorób, wirusów i innych patogenów. Pozbycie się ich z naszego otoczenia jest tak szalenie istotne, jeżeli chcemy dokładnie oczyścić nasze środowisko.
Dezynfekcja to nie tylko stosowanie środków chemicznych
Większości z nas, zabiegi dezynfekcji kojarzy wyłącznie z wykorzystaniem preparatów chemicznych. Oczywiście są one jednym podstawowych narzędzi, ale nie tylko.
Do pozbywania się wirusów i drobnoustrojów wykorzystuje się również specjalne lampy UV-C. Tego typu działania nazywane są dezynfekcją fizyczną, do której stosuje się promieniowanie UV-C w zakresie 250-270 nm. Bardzo skutecznie zabija niebezpieczne dla ludzi i zwierząt patogeny.
Innym, równie często wykorzystywanym działaniem są zabiegi zamgławiania ULV, które zaliczają się w skład tzw. dezynfekcji fizyczno-chemicznej. Metoda ta sprawdza się zwłaszcza w przypadku trudnych do przeniesienia gabarytów, magazynów sklepowych oraz wysoko ulokowanych miejsc, które mogą stanowić siedlisko mikroorganizmów.
Dezynfekcja za pomocą lamp UV-C w pełni bezpieczna dla ludzi
Jak już wcześniej wspomnieliśmy, jednym z najlepszych rozwiązań na pozbycie się wirusów i bakterii występujących w powietrzu jest stosowanie lamp przepływowych UV-C. Tego typu działania są szczególnie wskazane w budynkach typu hotele czy restauracje. Tam konieczna jest dokładna dezynfekcja pokoi, restauracji i kuchni. Preparaty z wysokością zawartością alkoholu nie wystarczą, dlatego należy sięgać po rozwiązania bardziej profesjonalne.
Do takich zaliczyć możemy lampy przepływowe UV-C. Urządzenia tego typu mogą być stosowane podczas obecności ludzi w pomieszczeniach, a szkodliwe promieniowanie nie wydostaje się na zewnątrz. Odizolowanie promieniowania zapewnia pełne bezpieczeństwo dla ludzi przebywających w pomieszczeniu podczas działania urządzenia. Umożliwia to prowadzenie stałej dezynfekcji, co pozwala stworzyć bezpieczne i higieniczne warunki pracy.
Bagatelizownie problemu zagrożeniem dla zdrowia ludzi
Niestety wciąż jest sporo instytucji i firm w naszym kraju, które lekceważą potrzebę dezynfekcji pomieszczeń w budynkach, w których mają swoje siedziby. W codziennej pracy często spotykamy się z odmową, kiedy to proponujemy audyt na obecność wirusów i patogenów. Fakt, że wielu przedsiębiorców lekceważy zdrowie swoich pracowników, nie przeprowadzając regularnych kontroli i działań zapobiegawczych jest niepokojący.
Na szczęście jest też druga strona medalu. W czasie pandemii duża część firm poszła po rozum do głowy i zdecydowała się na skorzystanie z tego rodzaju usług. Mamy nadzieję, że takich instytucji będzie przybywać, dzięki czemu będziemy mogli czuć się bezpiecznie w swoich środowiskach pracy.